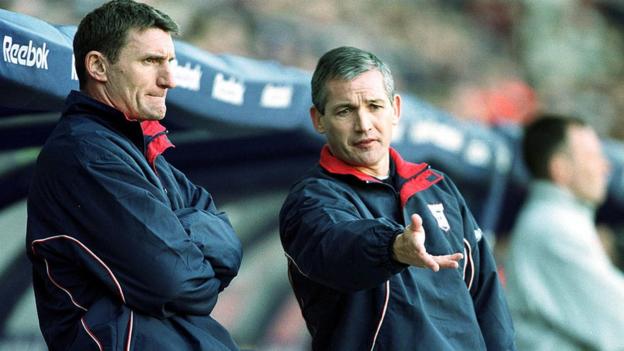 It is often suggested that some teams are "too good to go down".
In reality, poor recruitment and team spirit, or terrible luck with injuries, can thrust any side into a relegation battle and set alarm bells ringing.
Everton, Leicester City and West Ham are fighting for their Premier League lives, despite all having started the season with loftier aims back in August.
The Hammers are still juggling European commitments, Leicester have won the Premier League, FA Cup and finished fifth twice in the past seven years, while Everton have the second-longest unbroken spell in the top flight.
But all three teams are now nervously pushing for every point against sides who began the campaign prepared to do just that.
Before the crunch match between Leicester, who have won just three league games since the World Cup, and Everton on Monday, BBC Sport explores the psychology of falling into trouble.
'When you're at the bottom, it is a long way up'
In 2012-13, Newcastle United were supposed to be looking upwards.
After narrowly missing out on Champions League qualification the previous season, the Magpies should have been heading into the campaign looking to challenge again.
Like Leicester last summer, they only made one senior signing, midfielder Vurnon Anita, which stretched Alan Pardew's threadbare squad to the limit.
Newcastle reached the Europa League quarter-finals but finished 16th in the league, only securing survival on the penultimate weekend.
"It is tough," former defender James Perch told BBC Sport. "We didn't have a big enough squad as it was, so it was difficult to get used to.
"By Christmas I was looking at the table knowing where we'd be – I didn't think for one second we'd be able to challenge for the Champions League again because of the lack of signings."
Another side who struggled to back up a stellar season were Ipswich Town.
The Tractor Boys finished fifth in 2000-01 – their first season after promotion – which remains a top-flight record for the highest league finish by a newly-promoted side.
But the club's manager at the time, George Burley, believes increased expectations did not help as Ipswich were relegated a year later.
"If we'd had finished fourth-bottom, nobody would have said anything. Once you finish fifth, you think you had to get better," he said.
"It was hard to spin the idea that we will be lucky to stay in the league again. Europe made it 10 times more difficult. When you're at the bottom, it is a long way up."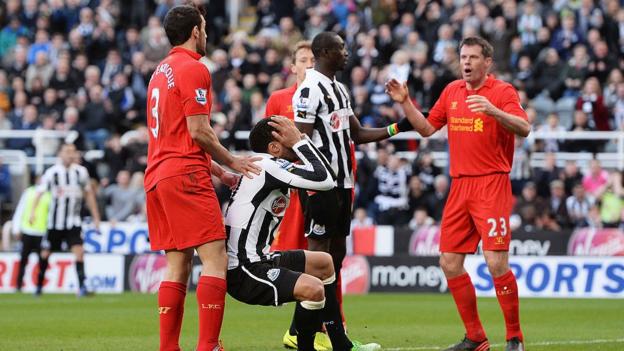 'It creeps up on you'
For teams with higher aims, it can be difficult to accept reality as the season progresses – but with each defeat the sense of peril intensifies.
"Nottingham Forest players will have been going into pre-season thinking, 'we've got to stay up', whereas Leicester and West Ham will have been thinking about getting back into Europe," Perch says.
"Loss after loss after loss, they'll be thinking 'it is just a blip', then it creeps up on you. They're still there with five or six games left, it is hard to stop the slide."
In 2011, Birmingham City followed up a ninth-placed finish by winning the League Cup.
But a disastrous second half of the season, underpinned by injury problems and a sudden loss of form, saw them go down on an incredible final day.
"Once you lose a couple of games, it spirals and creates that anxiety," striker Cameron Jerome told BBC Sport in 2021.
"You pick up a few more injuries, you're looking around all of a sudden and you think 'we are on a bit of a bad run'. Not winning one game snowballs into four or five games, then you're sucked into the fight at the bottom."
At that stage, it is about looking around and seeing if you can trust your team-mates.
'Certain players club together'
In the spring of 2012, Newcastle won six successive games and were hurtling towards the top four.
The likes of Papiss Cisse – who scored 13 goals in 14 games – Yohan Cabaye and Hatem Ben Arfa lit up St James' Park.
Talent is no guarantee and Perch did not sense some of his team-mates were up for the fight when it mattered 12 months on.
Defeat to Benfica, ending Newcastle's European dream, was followed by a harrowing 3-0 Tyne-Wear derby loss to Sunderland and a 6-0 thumping by Liverpool in April.
All of a sudden, it was panic stations.
"Certain players club together and battle, but I can remember looking round thinking 'right, Papiss doesn't look like he's up for this one'," Perch says.
"I was ready to play Thursday and Sunday [but] a few of the lads would have missed one to concentrate on the other.
"Once we were out of Europe, reality hit. It was all about staying in the Premier League – we were straight into the heat of the relegation battle."
Jerome asserted that losing form at the right time, and not squad morale, was Birmingham's biggest problem.
"The team spirit was fantastic. We had a good mix – ultimately it was still in our hands, we had enough games left in the season, we had enough bodies in the door. We got on a bad run as others got on a good one… it is about timing."
Ipswich left their mark in the Uefa Cup, as the Europa League was formerly known, 20 years after they lifted the trophy, including beating Inter Milan at Portman Road.
But Burley does have some regrets as he reminisces.
"Looking back, it wasn't a scenario for the long term because it interfered with us staying in the Premier League," he said.
"I'm convinced if we hadn't been in Europe, we'd have stayed up. You can't take away the memories, but it was a hindrance."
When clubs aim high, sometimes it makes the fall even harder.