Date:
Sunday, 23 April
Times:
09:15 BST wheelchair races, 09:25 elite women, 10:00 elite men and masses
Coverage:
Live on BBC TV, BBC iPlayer, BBC Sport website and BBC Sport mobile app from 08:30 with coverage of the finish line on digital services until 18:00
For Haroon Mota, training for the London Marathon has been different this year.
He has been making himself eat a big meal at 4am for the past month because it has been Ramadan, the holy month of fasting in Islam which involves abstaining from eating or drinking during daylight hours.
By the time Mota lines up on Sunday to run 26.2 miles, Ramadan will have finished but the 37-year-old will have spent a quarter of his 16-week training programme training at a reduced intensity while fasting.
"Fuelling and hydrating during the month of Ramadan if you are training isn't easy, I'll be honest," he told BBC Sport.
"Trying to put food and drink down your mouth at 4am, you probably don't feel hungry but you know that you have to eat. I have to give great priority to my hydration the moment that the sun goes down, so while it's tempting to jump straight to the sweet treats and the fried samosas, I have to take that in moderation.
"Your stomach constricts during Ramadan, meaning that you can take the smallest amount of food and feel full, and you don't want to get full with the types of food that aren't going to give you the right type of energy – so prioritising carbohydrates and then trying to drink plenty of water and electrolytes is really important for me."
Mota's typical day during Ramadan would start around 4am for Suhoor, the meal eaten pre-dawn, before heading to the mosque for the first of five daily prayers.
He would then head back home for some rest before getting up for the midday prayer. There was another prayer in the afternoon before he would go on his training runs, which he would do in the late afternoon as he would be able to break his fast soon afterwards.
His runs would range from four to 13 miles, so eating the correct food during Suhoor and Iftar (the meal eaten to break the fast at sundown) was important. His meals would consist of high-carb foods such as rice, pasta or potatoes and protein such as chicken. The final two prayers take place after Iftar, just after sunset, and then between sunset and midnight.
"Typically for a marathon training programme, the last few weeks is usually a taper period where you reduce your volume of training and things get easier," said Mota, who has completed 22 marathons, including the Boston Marathon earlier this week.
"Nevertheless, you are still marathon training so trying to get through that without food or drink is challenging, but I feel really strong."
How do you train safely while fasting?
Exercising in a 'fasted state' is when you train after a fast of eight or more hours.
"You can ensure to exercise safely by making sure that you have sufficient stores of carbohydrates and fat for your exercise," Dr Adora Yau, a senior lecturer in nutritional physiology at Manchester Metropolitan University, told BBC Sport.
"So during your eating periods, you can make sure to have a high-carb meal to replenish the glycogen stores and carbohydrate stores in your liver and muscles. And you can also make sure to ingest enough fluids."
On a normal day, fluid intake for women is about two litres and for men about 2.5 litres – but when someone is training for a marathon, they would have to increase their fluid intake to account for sweating.
During exercise, if the body's stores of glycogen and carbohydrate are depleted, an athlete will 'hit the wall', so taking in enough carbohydrates during non-fast times is vital.
"You'd need to be aware of the intensity of your exercise because you want to prolong your running period; you don't want to be training at a high intensity and then use up all of your glycogen stores and then find that the last part of the race, or your training, incredibly hard," Dr Yau said.
"A marathon is hard enough already. You also want to maintain a lower intensity so that your sweat rate is also lower. You want to avoid sweating too much to avoid getting severely dehydrated, which can potentially be more dangerous."
'I want to run happy, I want to run positive'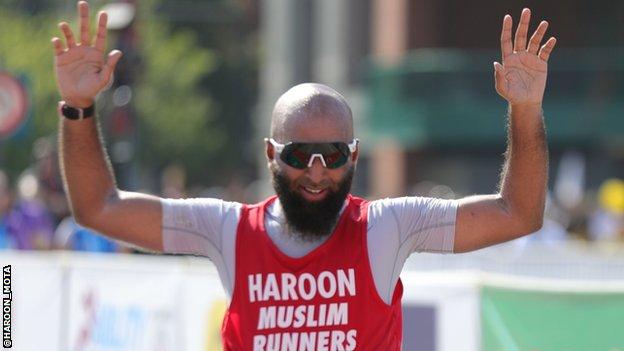 Not all Muslims will fast during Ramadan. Before the London 2012 Olympics, when Ramadan was much later in the year, long-distance runner Mo Farah instead fasted after his running season was over. Others will choose to give to charity instead.
Ramadan may now have finished but another thing Mota has to think about is Eid ul-Fitr, the festival marking the end of the month of fasting.
Traditionally, Muslims will come together to celebrate with plenty of food and sweet treats, but this year Haroon will still be preparing for a marathon, so does not want to indulge too much.
"I'm going to try and be sensible and prioritise carb intake amongst any other sweet treats that I might have," he said.
"With the London Marathon falling just after Ramadan, I've totally changed my expectations from a normal marathon.
"I want to run happy, I want to run positive. My friends and family are coming down to support me so I just want to have a positive race. Of course if I feel fresh on the day, I'll push myself, but I worry about that when I get to it."